White Oak UK Shortlisted for the UK Biddable Media Awards 19
The awards celebrate and reward the expertise, talent and achievements of the UK Biddable Media industry, and will be the premiere event for professionals working in digital marketing, pay per click and search, attracting brands, agencies, media and technology providers.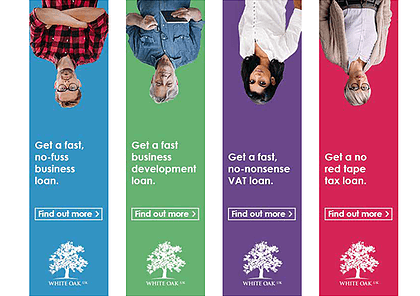 White Oak UK's 'welcome to the flipside' campaign has been shortlisted for the Finance Campaign of the Year, the award is given in recognition of an outstanding campaign in the finance sector which uses biddable media to deliver outstanding results. We're also delighted that twentysix has been shortlisted for the Large Biddable Agency of the Year.
Last year, White Oak UK provided over £520m of finance to thousands of businesses across the UK. In addition, and in conjunction with twentysix, we continued our highly successful and award winning 'welcome to the flipside' campaign, which focused on reducing the bureaucracy in business finance.
We took on board the frustrations that business owners have in sourcing finance through traditional means, working hard to eliminate the red tape from our own processes and passing on the benefits to our customers in the form of fast, simple and convenient business finance. The campaign demonstrated the power of a distinctive creative idea married with targeted bidding strategies ensures relevant audiences are reached.
The awards will be presented at a gala dinner and awards ceremony on 7th March 2019 at the Montcalm Marble Arch in London.
To learn more about how White Oak UK has flipped finance on its head, take a look at our Products or see how firms like yours have made money work for their business in our Customer Success Stories.