White Oak UK customer, Henstone Distillery, switch from gin to hand sanitiser
Since the Covid-19 virus first started, health authorities have suggested using hand sanitiser as one of the easiest ways of helping stop the spread of the disease. Since then there has been a massive demand for hand sanitiser which has led to a shortage in both shops and more importantly within the NHS and other frontline services.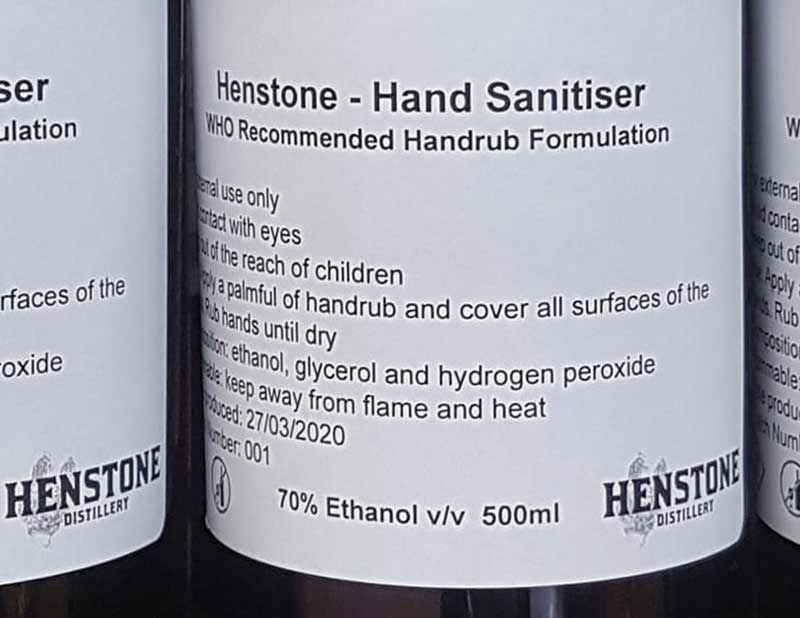 Step up White Oak UK's customer, Henstone Distillery. Henstone, an exciting craft distillery based in the beautiful rolling Shropshire countryside, announced last week that they had completed their first batch of sanitiser, ready to dispatch.
Since that time they have produced an amazing 800 litres of sanitiser – a truly stunning achievement.
Chris Toller, Director of the Henstone Distillery said,
"It's been over a week of navigating through the legalities & logistics of doing this, but we're finally there! Priority for the product will be given to the NHS, but we should have more available for other customers, once those orders have been fulfilled."
Andy Davies, Managing Director at White Oak UK added,
"It's great to see one of customers stepping up to the plate at this difficult time and helping out the NHS with vital supplies."
The Henstone Distillery story
Demand for high quality craft spirits has increased sharply in recent years it's a booming global industry, and one the team at Henstone are excited to be part of.
Their vision was always to produce a range of exceptional quality whisky, gin, bourbon and apple brandy, from their craft distillery in Shropshire.

As a start-up business Henstone approached White Oak UK for assistance in 2017 for help in achieving the business development loans required to expand the operations of the existing Stonehouse Brewery and develop the distillery operation.
The team were working to tight deadlines to get the business off the ground and whilst Chris initially approached his bank for funding, the process and the timescales were unfavourable, leading them to approach White Oak UK.
We're pleased to see how the distillery has grown in such a short time, growing its initial product range to include additional new variations and winning several prestigious awards.
Henstone Distillery is well positioned for long-term development. The impressive 1000 litre still, affectionately named Hilda, enables the distillery to produce around 2000 bottles of gin per run, allowing them to retain a craft focus, whilst also being able to meet their anticipated commercial demand.
And they're not just focused on gin – the Henstone team are looking to next year already, with their first batch of whisky officially able to be called 'whisky' early in January 2021.