How did indigo awnings are putting the competiton in the shade
We talked to Trevor Ruddle, owner and Managing Director of market-leading commercial-grade shading suppliers Indigo Awnings, about how partnering with White Oak UK to offer their customers the option of spreading the cost of purchase is changing the landscape for their business.
Established in 1978, the company is now one of the UK's largest providers of commercial shading; with clients including a growing number of leading hospitality brands and sporting venues, they have recently expanded into the UAE.
What does your company do?
For the last 40 years, we've assisted customers in everything from designing the layout of their outdoor space to installing products that are still standing perfectly, some 15 years later. We supply and install everything from parasols and awnings to screening and large scale fixed structures, which have become increasingly popular in the hospitality sectors.
Our clients span a large mix of industries, from small bars and restaurants to national sporting venues and hotel and restaurant chains – and everything in between. Whilst our customers are varied, they all share a primary concern – to maximise their available space and create the perfect al fresco experience for their customers.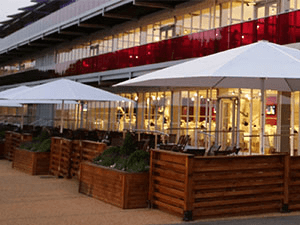 In the UK, we aren't blessed with year-round good weather, and so the ability to cater for this with spaces that are usable all year round is key and can provide an almost-instant return on investment. Our retractable-roof fixed structures are designed to withstand the elements, making them an ideal choice to enrich outdoor space. We offer a range of structures, from fabric, fixed glass or retractable roofs, making the space as comfortable during winter as it is during summer.
Our customers' requirements are rarely replicated, and so they need a solution that fits the individual needs of their premises. An out of the box product just doesn't fit the bill in many cases and so, all our ranges are fully customisable, with branding and personalisation all part of the service and with 60% of all new business derived from repeat business or customer referrals, thanks to our dedicated aftercare service, we like to think we are doing this right!
What do you feel are the advantages of using finance for your business?
For many customers, the concept of commercial-grade products is an essential consideration to support increased footfall, capacity and revenue, but as with anything of quality, it's an investment.
Leasing these products is a great alternative to outright purchase as typically there's no deposit required, and every plan is designed to suit the customer, so it offers real flexibility to a much wider audience.
With a client base regularly impacted by seasonality, we've found it makes sense to offer our customers the ability to spread this cost with White Oak UK, helping them to invest at times when trade is slower. Equally, the beauty of finance is that they can purchase a structure from us, have this installed and start to generate an income from day one.
Where do you hope the business will be in three years' time?
In 2017, we also expanded operations into the Middle East, with a design and supply offering based in the UAE. UV protection is increasingly on the agenda and there is real opportunity to provide the highest calibre shading solutions.
Plans are now to explore further opportunities with the hospitality industry as well as architects and designers involved in new hotels and restaurants in Dubai, it's a very different customer dynamic to that seen in the UK, but we see considerable opportunity in this market.
On a more local level, we also have plans to develop our headquarters and showroom, building a state of the art barn-style development in an area of outstanding natural beauty.
Indigo Awnings offer simple and effective lease options to their clients through the White Oak UK Partner Programme. Find out more about how you can drive sales by becoming a partner today.