Celebrating over one thousand 5-star customer reviews on Feefo
For us, this is fantastic news. It means that we are doing what we set out to do – to make our customers happy through the provision of fast, fuss-free business finance. What's more they've taken to Feefo to tell us, and you, about it.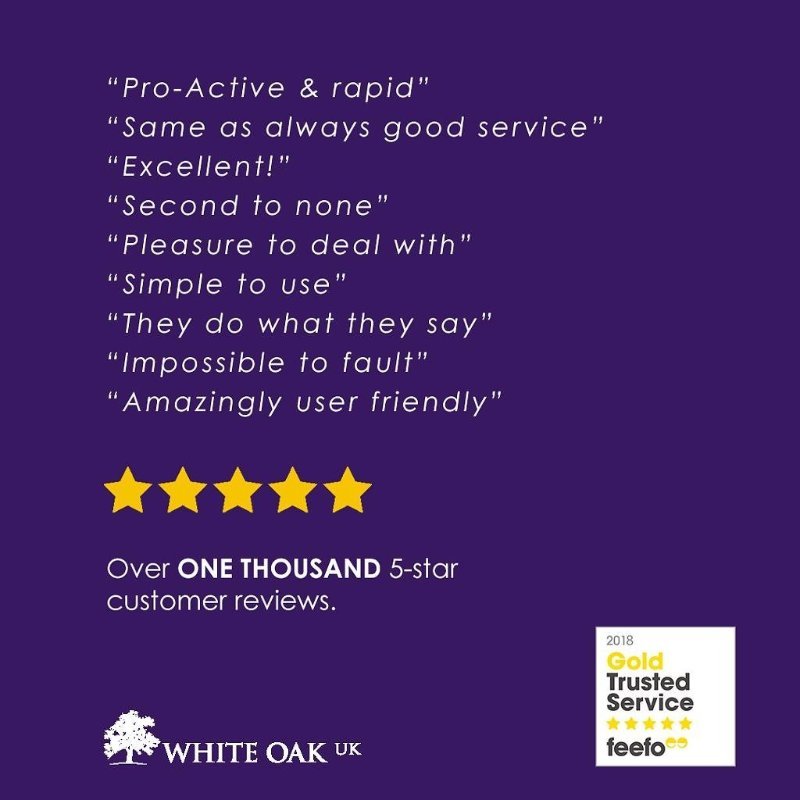 We're very proud to maintain a fantastic 4.9 out of 5 stars on our service to our customers, in fact, we are the highest rated non-bank business finance provider on Feefo and for that, we'd like to say a big thank you.
A thank you to our customers for choosing us above others. We know the choices you have and we're proud that you continue to pick White Oak UK to help support your business. A thank you for sharing your experiences with other like-minded business owners who may have needed that extra confidence to explore the world of business finance.
Reviews and star ratings are one of the biggest influencers of buying behaviour, in fact over 95% of us are influenced by reading reviews ahead of a key purchase, with 69% of us stating that reviews provide trust and confidence in a business or service.
Why not head over to our review page and see what our customers are saying about White Oak UK. Alternatively see how our asset finance, business loans and commercial mortgage solutions can help your business.
About Feefo
Feefo are a reviews provider, committed to collecting real customer feedback on behalf of the businesses they work with. To stop people from leaving dishonest or fake reviews, Feefo contact customers directly following their experience and invite them to leave a review; that review, whether good or bad, is then uploaded to the business's Feefo page for all to see.