A fantastic weekend at the 2019 White Oak UK Polo Series
Last weekend (Friday 6th and 7th September) marked the sixth annual two-day White Oak UK Polo Series at Chester Racecourse – the home of Chester Polo Club. We couldn't have asked for better conditions, the weather was glorious – making for a superb and lively couple of days, setting the scene for some excellent polo.
This year we hosted over 80 guests across the two days, a mix of customers, brokers and key partners. Both a thank you for continued relationships and a fantastic chance for us all to network face to face and further strengthen these valued relationships.
We continue to find polo at Chester an ideal platform for relaxed corporate engagement, our guests always enjoy a great day and feedback is consistently glowing – from the food and the venue which took on elements of Chester's latest stylish hospitality offering, Parade, to the thrill of the polo itself – it's always popular, even for those unfamiliar with the game.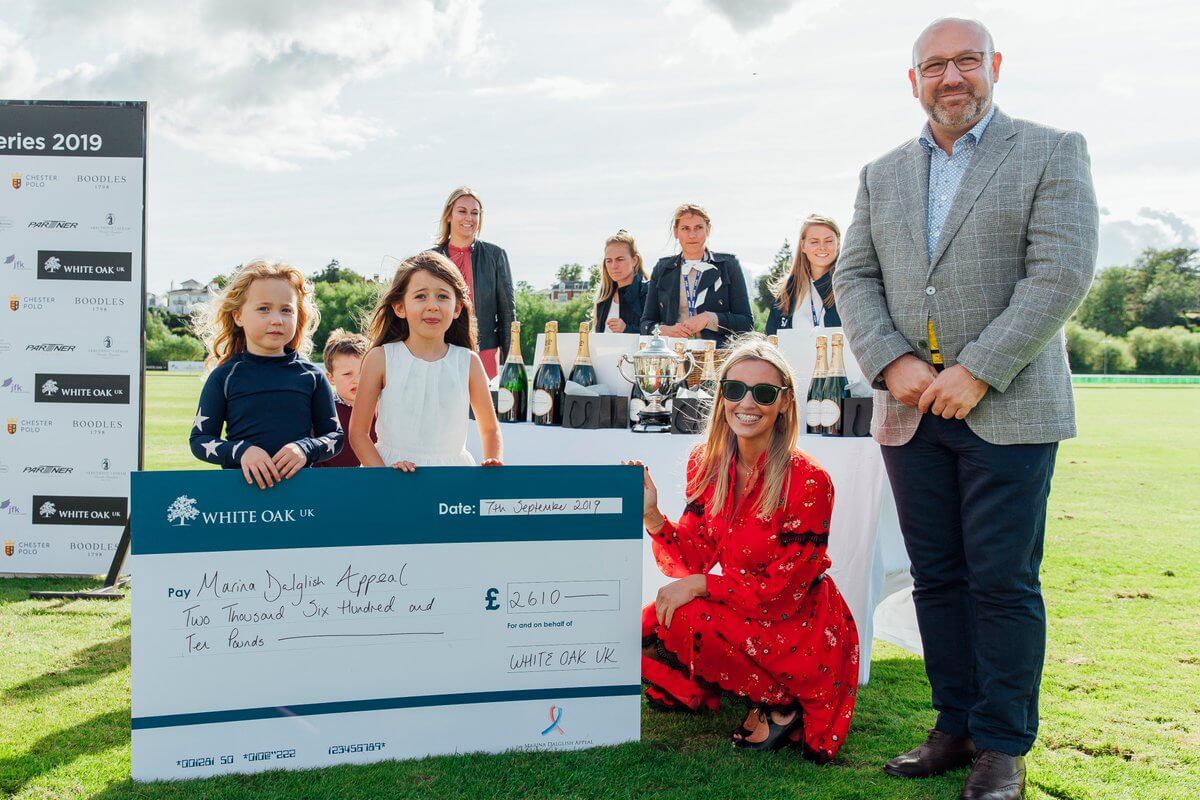 The polo tournament itself was a great success. Four teams battled it out over the course of the two-days to achieve top spot in the tournament and take the coveted silver trophy. Team Laurent-Perrier, captained by Chester Racecourse CEO, Richard Thomas, claimed the winner's trophy, with the White Oak UK team coming a very worthy runner up with a final score of 10 vs 4.5. Arbuthnot Latham and Partner Tech finished third and fourth respectively.
The White Oak UK Polo Series continues to develop and the addition this year of North West based ParentFolk, adding a family feel to Saturday's event, along with the excellent Land Rover Experience, new Laurent-Perrier Champagne garden, DJ sets throughout the afternoon and "pamper pop ups", made for a fabulous and well-positioned festival feel.
The weekend's action was captured by Sky Sports Racing, with a feature due to air in the coming weeks and featuring comments also from White Oak UK CEO, Carl D'Ammassa.
"We do a lot with Chester Race Company and the polo event is phenomenal. A fabulous setting, the hospitality is great and every year the event grows and feels just as fresh."
The event also helped us raise £2,610 for our corporate charity, the Marina Dalglish Appeal, a fantastic result and thanks to the many generous marquee guests over the two days, helping us to beat last year's total.