5 key stats for why your small business should be exporting
If you're not already exporting your goods and services, it can be a daunting prospect. But there are plenty of reasons why it's worth investing the time and resources.
Businesses that embrace exporting are 11% more likely to survive1
By becoming less reliant on one market your small business is much more robust. This can be critical when the economy enters turbulent times, or when the future is uncertain (Brexit, anyone?).
Entering a new market can also be a great driver for small businesses to improve goods and services. This investment in research and development can have long-lasting benefits for small businesses.
On the Department for International Trade website alone, UK companies have around 40 new opportunities to export every day – one every 37 minutes2
Thousands of export opportunities can be found on the DIT's website. This is just one example of the huge demand for British products and services overseas, not only in Europe but also worldwide too.
If your product or service is in demand in the UK, then there's every chance it will compete well overseas too. By finding these opportunities and exploring if they are right for your business you could uncover a whole new market, ideal for your product.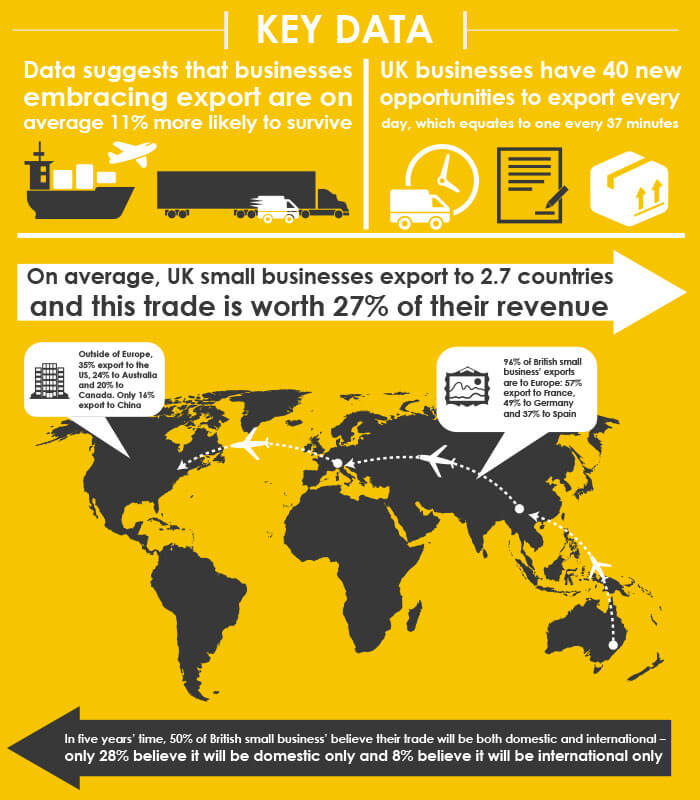 On average UK small businesses export to 2.7 countries, worth 27% of their revenue3
If your product or service could be exported, and you're not already exporting, you may be slipping behind competitors already pushing into new territories.
With small businesses that do export bringing in up to 27% more revenue, it's clear exporting is an opportunity that you need to be at least exploring.
In five years' time, 50% of small businesses believe their trade will be both domestic and international4
The UK government has shown an intention to try and grow exports to 35% of GDP. This commitment means international sales should be firmly on the agenda for small businesses, even as we head towards Brexit.
Just 14% of small businesses know where to go for the right funding5
Tapping into foreign markets is a huge opportunity to increase your output. But it does need some investment up front, and so understanding your finance options is vital.
White Oak UK can support your export plan in several ways. From covering the cost of new essential equipment and technology with asset finance to recruitment and working capital through business loans.
This blog is an excerpt from our free whitepaper, Get Investment and Start Exporting.
You can also read how we helped two of our customers, Zunsport and Cajero, achieve their exporting goals.